Virtual Art Auction 2020
Virtual Art Auction 2020

The LUX Center for the Arts continues to make art happen in Lincoln.
This past summer we transitioned camps to private lessons, held an international print exhibition, presented an Art Safari for more than 1300 kids and families, and celebrated the diversity of Nebraska Artists through Lincoln with our Nine Nebraska Artists mural project. All of these projects helped to engage our community and keep artists employed.

Please help the LUX continue to 'make art happen!'
Purchase art through this Benefit Auction and not only will you help support the LUX's programs,
but you'll also be supporting artists.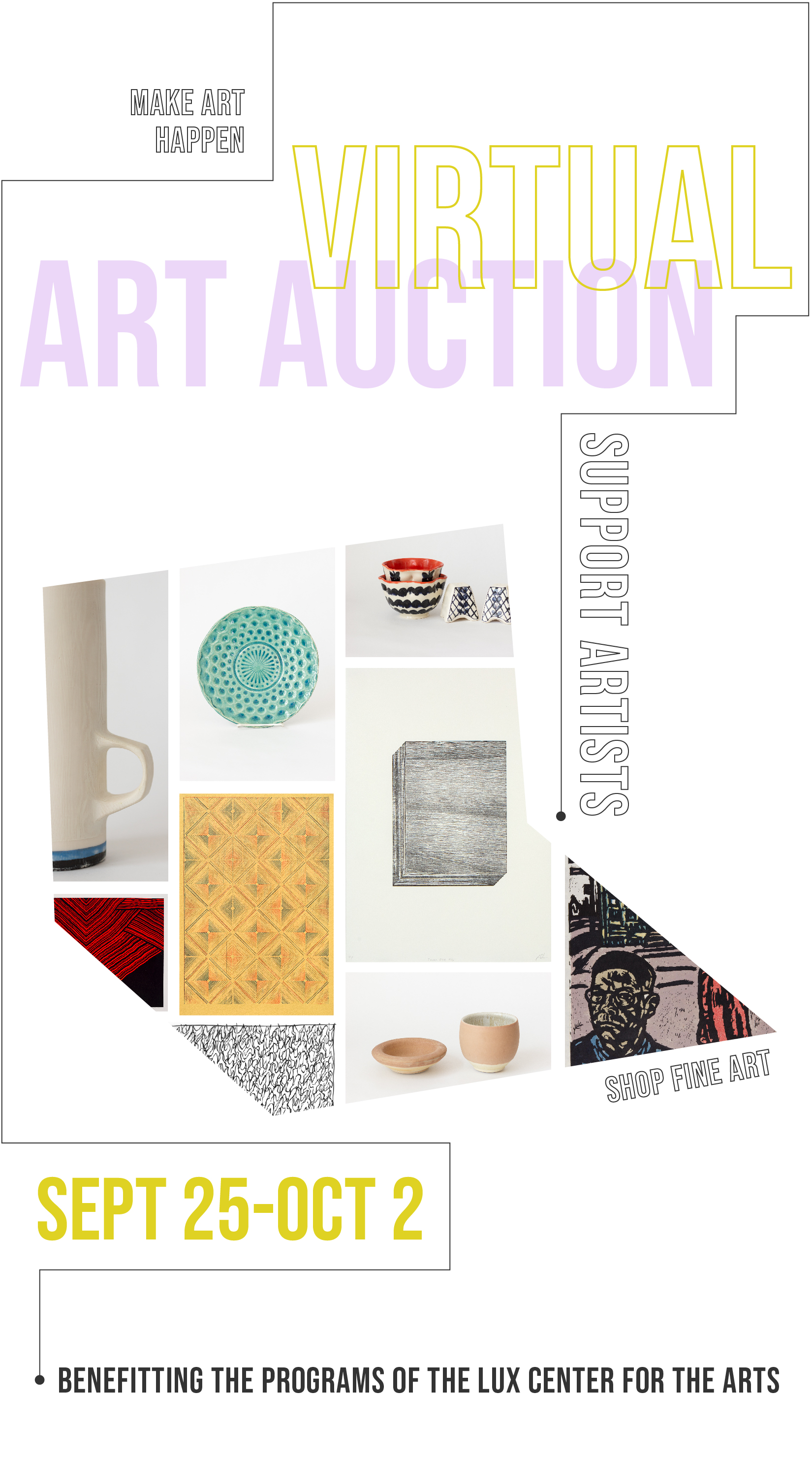 Auction Opens: September 25th, 2020 @ 12pm


How the Reverse Auction Works:

• All items will be listed at the "Buy it Now" retail price on Friday, September 25th at 12pm.
• The price will drop each day at 12pm until the items reach their minimum bid price on Friday, October 2nd.
• Patrons can purchase items at any time, but keep in mind the lower in price the item goes, the more likely it is to be purchased.
• Patrons will know right away that they've won the bid and the work will be marked as sold.
Please note the artwork is not reserved until the payment has been processed.

• The LUX is offering free delivery in Lincoln, shipping outside of Lincoln will require an additional charge. Our website will offer a pickup option if you live in Lincoln or you can choose to donate the shipping charge.
All work will be shipped or delivered by TBD


Thank You to our Sponsors!

Virtual Art Auction Sponsor: UNANIMOUS
Platinum Portfolio Sponsor: Ameritas, Assurity, David Clark Framing
Gold Gallery: Cline Williams, Woods Aitken
Silver Studio: Bank of Bennington, Bryan Health, C&C Consultants, Geoff & Kristen Cline, Inspro, Ken and Liz Koop,
Nebraska Bank of Commerce, Nebraska Wesleyan University,
Rivers Metal Products, Sandhills Global, Union Bank & Trust, Doug & Laura Winjum, The Woods Family
Bronze Beholder: Talent +, Westgate Bank, John & Nancy Wiederspan



Make a Donation to Support LUX Programs